Strappe's Garage
(Click on these images for a big picture.)
---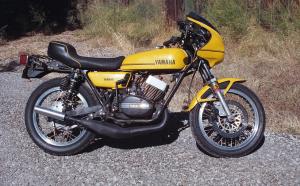 Yamaha RD350A, 1974. 46 BHP, 303 pounds dry.
Modifications: Pro-Flo expansion chambers, Newtronic Piranha electronic ignition, K&N air filters, Boyesen reed valves, Pro-Flo stage 1 porting, RZ350 fairing and instruments, modified springs in forks, Works rear shocks, aluminum swingarm from Moto Carrera, reversed forks with custom fork brace, rearsets, Akront rims with stainless steel spokes, 4 piston front caliper gripping a rotor from a CBR900RR, seat by Dick's Auto Trim, paint job by Strappe.
I've been very impressed with the Pro-Flo expansion chambers - seat-of-the-pants feeling was an increase of 10-15 percent power over the SpecII chambers I had run for three years or so. Recommended!
In 1973 the RD350 was widely known as the Pocket Rocket. Many thousands were sold and many thousands were wrapped around trees and lampposts. In those days the front disk was considered to deliver awesome stopping power and the alleged 39 BHP (probably closer to 32 at the rear wheel) meant it could outrun and outstop BSAs, Triumphs, Nortons and such - but it couldn't outrun the fast and frightening Kawasaki triples of 500 and 750 cc. They found even more trees and lampposts than the RDs.
---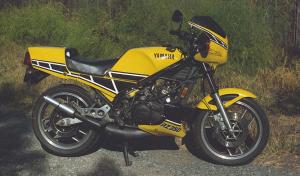 Yamaha RZ350, 1985, 340 pounds dry. This bike started life as a red/white/blue model. A complete restoration included the yellow/black paint scheme of the '84 model (painting by Strappe), decal set from RZs Unlimited, Ohlins rear shock, Race Tech cartridge emulators and 4-piston calipers from a GSXR750.
The stock RZ suspension leaves a lot to be desired. Way soft. An 11 kg/mm rear spring over the Ohlins shock helped, but the big improvement was the removal of six inches (150mm) from the fork springs, stiffening them enough that air pressure isn't needed. The cartridge emulators finished the job. This bike handles properly. Not like the TZR, of course...
---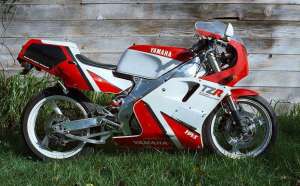 Yamaha TZR250SP, 1990. 57 BHP, 287 pounds dry. Modifications: racing ignition box, racing pipes. When it passes 10,000 RPM it's guaranteed to raise your pulse rate.
This is the street replica of the TZ250 racebike, about 50 pounds heavier and 25 hp lighter. This model was sold only in Japan in '90, where it was restricted by law to 45 hp; the only ones you'll see here were privately imported as used bikes. The SP designation stands for Sport Production and delivers even more trickery than the standard TZR250, such as inverted forks (adjustable for preload, compression and rebound damping), rear shock adjustable for preload, ride height and compression / rebound damping, 4.5" rear wheel, close ratio cassette gearbox (too close, really, for street use), dry clutch, bigger 34 mm carbs, individual heads and probably more I haven't found yet.
1990 was the last year the TZ/TZRs came in parallel twin configuration, the '91s were V-twins. The '89s and '90s were unique in that the cylinders were reversed: carburetors in front and exhaust out the back, under the seat.
---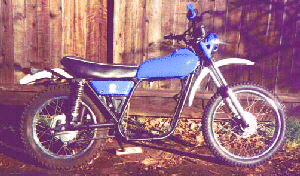 Yamaha DT250B, 1975. 0 BHP, 155 pounds dry. This bike is under restoration - it'll be better when it has an engine. It has an impressive 4.5 inches of front suspension travel and trick piggyback shocks with more than 3 inches of travel. Cool, eh?
Paint job by Strappe, seat by Dick's Auto Trim.


---

to Strappe's home page...