Race bikes and project bikes
(click on these images for full size)
---
---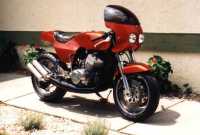 Ed Turnipseed's '73 H2 750. "74 superlube motor and 90 GSXR goodies that almost dropped into place (no lie). The body was a brand new Tracy that I had cut into three sections,tucked in and re-angled and lowered to fit the frame to perfection. I braced and trimmed the frame. I designed the cafe' faring and had it made for me (frenched headlight holes for the twin headlights). The wight of the complete body/fender/cafe' faring is 12 lb. 3 ounces. The bike's wet weight is under 400 lb. and handles and goes and stops to perfection!!!"

---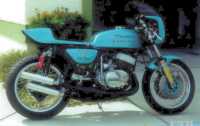 Ed Turnipseed's '72 H2750. "Bodywork is stock (tank and side covers). Tail section is an original fiberglass Laguna Seca from the '70's. Front fender is an original TZ250U unit. Cafe' faring from the '70's on the front and stock head light. A battery eliminator is used on the beast also. Motor has 115+ hp. .70 over Wisco pro-lites, extensive port work, milled heads, 36 Mikuni's, velocity stacks with filters, Falicon crank, upgraded bearings and seals,close ratio factory 5 speed, Barnett kevlar clutch, and super light weight clutch basket. Drilled covers add that race look and make it a bit lighter. Coils are by Dyna. Lubed by pre-mix only. Wheels are Sun Racing aluminum with HD stainless steel spokes, tires are Dunlop K591 R's Front 110/90x18, rear is 140/70x18. Rear brake has been drilled and lightened, front brakes are factory twin disc drilled and lightened. Magura clip-ons, Rask rear-sets, Progressive front springs, Fox piggy-backs on the rear and the pipes are highly modified Fast By Gast (diffusers have been modified for the powerband and the pipes re-angled for better ground clearance). Frame has been lightened and braced and it uses a tapered steering bearing and at the swing arm brass bushings are used. The bike weighs in at 348 lbs wet. I have a modified rear brake light and licence plate holder that just bolts into the tail section (see the holes on the back?) so I can ride it on the street!!!"

---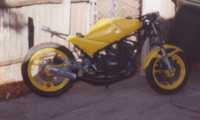 Another project bike from Ed Turnipseed.
"This is another project I just started on. 85 RZ350 with 77 RD400 motor that has ben nicely warmed over with Wisco .040 pro-lites and 34 mikunis, milled heads and extensive porting, Biganski crank I acquired several years ago freshly rebuilt and it just now got a home, K&N air filters ('cause I have used them almost all my life) super light weight racing clutch basket (I believe it is from Europe and I don't remember the name) Barnett carbon fibre clutch pack/springs. The front end is Canadian (with 16 inch rim). The rear is factory. Dunlop k591 (wheel mod update to follow). The frame is factory that has ben trimmed and braced (very light at this point in time) Will put on a TZ fairing and tailsection as soon as the bugjet is prepared ( stay tuned Doug for an order from me!!! ). I rode the beast for a quick ride around my neighborhood (put on a solo FZR400R race seat) and it does handle very well and is very very quick!! It stops verrry well also!!!! Now just to put on some nice bodywork and paint it and ride it!!!"
---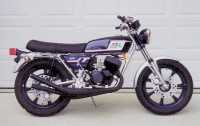 An update on Sam Simons' RD-Kawasaki triple hybrid project. Great idea: put that 500 triple in a decent frame. Here's a closeup.

---
---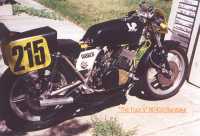 Kevin Bayron sends this pic of Michael Schultz' RD400 from Utah.
Pipes are Spec II, clip-ons from motocarrera, has an EGT, headlight mounts and tach from JC Whitney and the tach comes with a mount that bolts right up. He's currently running 34mm flatslide carbs but has had problems sorting it out. "the front mounted coils are now gone and replaced with Ultra ignition from John at Pro-Flo. Oh yeah the frame was painted a bronze color with a Hammerite finish. Front fender is an Acerbis dualsport fender no longer made. Rear shocks are Red Wings with springs painted Epoxy black. " "*No battery and less wires!! Starts on the second kick everytime. Bell bicycle clamp-on light (for that extra bit of legalness should I get stopped.) Rear tailight is an enduro light ordered through Chaparral. Master Cylinder from RF 900. Rear seat is a Harley RR250 ordered through Airtech for $145. Throttle assembly is a Motion Pro from Pro-Flo with grips from Lockhart Phillip. heads have been milled. Has Pro-flo reed cage mods with TDR reeds. Reinforced the fiberglass seat pan with some 1/16 aluminum sheeting which was shaped and runs from the front of the seat and folds up to the rear hump underside of the seat. Pop rivited in place. It holds quite well. I weigh 170lbs. A touch you can't see is the modified license plate cut and mounted underneath the seat on the rear subframe."
"The bike is a 76 RD on its 2nd crank after my sole race debut last year it seized pulling the rod out and band sawing through the whole engine case! Ouch, and this after driving ten hours to Pueblo Colorado last year for the last race of the season. I now have a spare crank. Three cranks at $400 each in a year and a half. Still its not running as smooth as I'd like.
---
---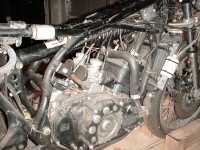 Mike Studzinski's early TZ250 project bike, still in the crate. Here's a closeup of the engine. Mike hopes to race it in Northern California in the '01 season.

---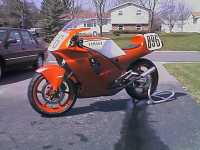 Ted Temple's RZ350 racer. Goodies: Body Double YZF Superbike Fairings, Hurricane 600 F/E FZ600 Swingarm, F2 Wheels, Fox/Race-Tech suspension, Barlow Porting, Barlow Pipes, F3 Radiator, Banshee Total Loss race ignition, Vito's Performance Power Pistons (Banshee type w/ceramic coating), Digitron digital tach/egt/egt.
Putting out mid 70's HP.

---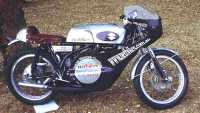 Chris Dupen's T20 racebike from Brisbane, OZ.
"For those that know the T20 you will note the extra bracing in the frame. Wheels are alloy and still carry the original Yokohama racing tyres from 30 years ago. They seem to hold well in the dry but I would not risk a wet ride. Note the 4 small air inlets on the front hub. The left side has one large one. I will be pulling both wheels down soon to rezinc the spokes and paint the hub. Why paint. Because it is far easier to keep clean than polishing. The front guard is alloy with a chromed steel brace, the rear is X Triumph which I had to cut a piece from the middle to allow the seat to seat down. The tank is alloy and painted in heavy metal flake silver, chunky even. The "S" sticker placed on the silver then the purple oval sprayed over. The sticker was then removed and layers of clear added to level it all. Painting by a friend, Brad Perrot from Chris Nessel Spray Painting. 170 logan Rd Buranda Brisbane. Ph. local: 3891 6994. The chambers were originally pure race but I had to lop off the stingers and replace with these small alloy mufflers. They are some quieter but reduce the power a little. At the same time this bike is still much faster than your standard T20. Like Carl, I like to go fast too and will probably join him in that soft walled room."

---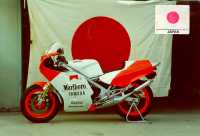 Mike Cekalovich's RZ500 in the pits, and in the hot pit, ready for action.
---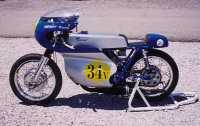 Sam Simons says, "Here's a recent shot of Don Henry's X6 racer;quite a redo,huh? He still refuses to stop racing it! I keep telling him- "Mantle..not tarmac!" It just may be for sale.....
---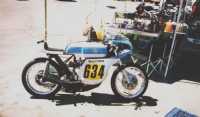 Dave Broekema's Bultaco Metralla in the pits at Sears Point, and at Buttonwillow.

---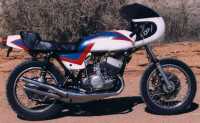 A new look at John Aylor's Kawi H1/H2 convertible with new fairing. Special feature, the new custom inspection window.

---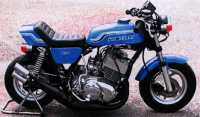 John forwards this Swedish KH 400 mini H2 - nice job. Drag your knees in a straight line!

---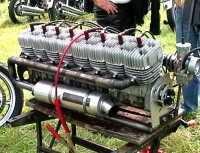 Also from John: "This is another Simon Whitelock (mad scientist) project from England......."

---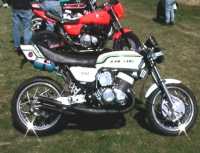 Earlier Simon project........ S1 (350) frame monoshocked, 500 motor supercharged, fuel injected and NOS...........
---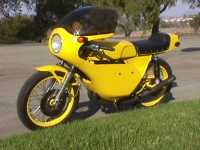 Kelly Eley's trick RD350. Here's a view from the pilot's seat and one of the trick rear brake.
"It's faster than it looks...it scared me to death today on her first trip down the road! Geeeeez these things fly when you hit 6k rpm!!! The yellow line was solid by the time I hit 5th gear!"

---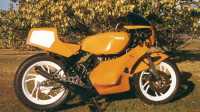 Jim Downie's RD350LC. "Barry Geard race cyl,s and head, boysen race reeds, 28mm mikunis, hand built chambers, pods, rz calipers,m/cyl, tz250h bodywork, XR600 headlight, DAYTONA clip ons and s/damper, home made rear sets, modified fork internals, all electrics are under seat with the battery and heaps off little things I bet i've forgotten about (I built it out of a wreck I owed it to the bike as I raced it for many years and it never let me down so when I crashed it big time I could not just chuck it in the bin.) It now has 2.15 alloy wire wheels on a/c rd hubs. cheers Jim downie."

---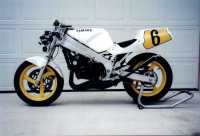 Marc Jaeger's 87 TZR/RZ 350 conversion. "I acquired this bike from a friend with a damaged motor and decided to install a RZ 350 motor. New motor mounts were fabricated, pipes were designed and built by Darcy Rosentreter. As many of the TZR parts were utilized as possible, rad, electrics etc. The motor was ported and developed by myself and Darcy. We wanted reliability with lots of bottom end. It does pull like a bugger,thanks in part to a good pipe design. We estimate around 70 hp when all is said and done in a 290 lb.package. We hope to dyno the bike soon. (No dyno in our city of 600,000.) Other upgrades include an Ohlins shock from a CBR F2, Race Tech springs and emulator valves. TZ body work."


---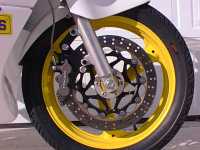 More of Marc Jaeger's TZR/RZ350 conversion.
"Here is a pic of a 96 GSXR six piston caliper conversion. Many more mods to come over the winter.New wheels, front rotor, pipes, suspension mods, more hp. Always looking for more."
Ed. note: Huh? He wants *more* braking?


---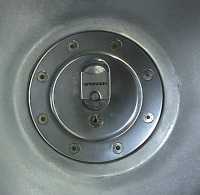 Here are some early pics of Youngie's project - a Spondon frame with a Suzuki RG500 500cc square 4 engine. This thing is going to be a beast!

So far we have the swingarm, the chassis and tank, and the 320mm Brembo front disk and the rolling chassis, side view and closeup. More to come...

---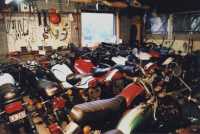 This is Mark Witzerman's garage. The next time SWMBO* starts grumbling about all those bikes, show her this pic. Worked for me.


*SWMBO: She who must be obeyed

---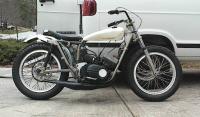 Ray Brooks' Trackmaster-framed RD. Note the right-hand shift and *no* brakes. Bet this thing is vicious!

---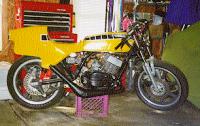 Rob Rowland uploads this hybrid racer: "The motorcycle is a 1977 RD400 frame with a 1973 RD350 engine in it. I don't know if the engine has been modified, but I do know it came out of an RD350 modified to be a three-wheeler (yes, that's right). The exhaust pipes are home build by the original owner to fit around the wide three-wheeler axle, but between the tires. The rolling chassis came from San Diego, CA where it used to house a TD1 engine for roadracing. The front tire is an old Dunlop KR108 slick and the rear a Goodyear slick. They are very old and dry rotted, so I will probably leave them on the rims and use different rims when I race it. The frame has been modified with a bit of craftmanship to support the tailsection. Whoever had the frame before me really put a lot of work into it."
And here's a pic of the bike from the car show...
---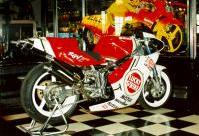 Mark Brown's flawless RGV500 w/carbon body work and loads of trick work. Charlie Crawford says "Yes this thing SMOKES, or should I say flies."

---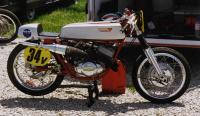 Sam Simons uploaded this neat Suzuki T20. Sam says, "a friend on the east coast, Don Henry, built and races this little gem. The chambers are polished stainless steel. He finished 5th in the nation (WERA) on it in '97 I believe. He also designed and fab'd the infra-red timed ignition system for it. Quite a talented (and very nice) fellow."
---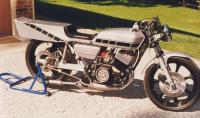 Sam Simons' Pro Street 1/8 mile drag bike. RD400 crankshaft lightened, fitted inside RD350 cases. 34mm flatslide Mikunis, air shifter, undercut gears, nitrous oxide. Chassis is stock but raked, has shortened RD forks. Sam is looking for low 6 second times at 110 mph in the 1/8 mile.
---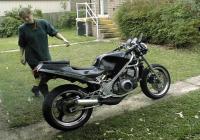 Kath Knight's custom RD350LC/Suzuki RG250 hybrid. LC engine in the RG frame, RG tank. The front brake is a FZR1000 floating 320mm disk and a YZF1000 one piece 4-pot caliper. It does truly brilliant stoppies and definitely does not need two disks. All up about 120kg dry in road trim and handles soooooooooooo much better than a stock LC or RZ.

---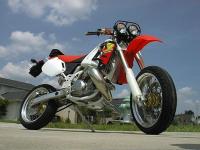 Here's MikeE's totally bonkers CR500R super motard. Wheelies! Stoppies! A real hooligan's bike...
---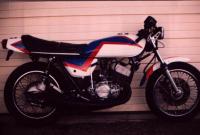 John Aylor's '75 Kawasaki H1/H2 - depends which engine he puts in the frame. John says: "I am waiting for the cafe seat to be finished and trying to find a different front fender (one that fits!). Modifications are: 2.15 x 18" front rim, EX 500 caliper with Galfer green pads, 1 1/4" longer rear Red Wing shocks, Telefix clip-ons, FT500 headlight, paint by rattle can."

---