Two-stroke racers, on two wheels and four
(click on these pictures for full size)
Updated 11/25/00
---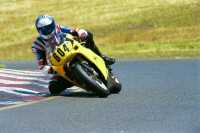 John Young (Youngie) in his first AFM season. This is Sears Point turn 2.
He's riding his TZ250 in Formula II. FII in the AFM has huge grids - sometimes 60 or more. The sound of all those killer bees coming up the hill after the start is music to my ears.
---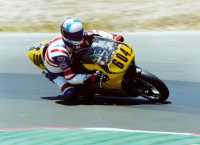 Youngie in turn 7 at Sears Point. Check out his web site: http://www.youngie.com
---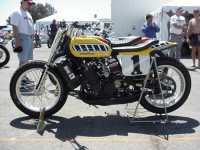 Mike Studzinski took these pics of Kenny Roberts' TZ750 flattracker at the AHRMA vintage races at Sears Point in May 2000. Here's a nice shot of the TZ750 engine.

---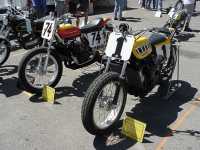 Mike also got this shot of the TZ750 with KR's TZ350 flattracker in the background.
---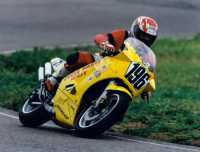 Perry Black on his RG500 Gamma at one of his local Colorado tracks.
---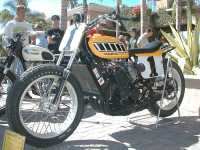 Kenny Roberts' TZ750 flattracker, on display at Del Mar. This is the beast that led KR to say something like "You don't pay me enough to ride that thing."
Dave Mason sent it along, he says, "check this out...how about that Triumph in the background...what a beauty..."

---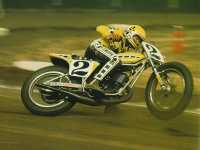 Here's Kenny at 110% on a Yamaha 250 flattracker in the 70's. This would be the season-opener shorttrack at Houston immediately after he lost the #1 plate. Forwarded by Jim Mason.

---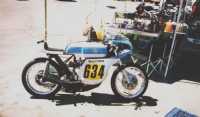 Dave Broekema's Bultaco Metralla in the pits at Sears Point, and at Buttonwillow.

---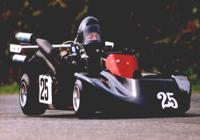 Pilot - Kyle Rice
Chasis - N.W. Exotics
Engine - T.S.O. Engineering
In the Northwest US states of Washington and Oregon there is a local Road Race class called RZ350. The competition in this class is fierce and the average entry per race is 10 carts. The RZ carts compete in the IKF open class as well. This particular cart with Kyle Rice at the wheel has reached speeds as high as 152 mph at Seattle International Raceway.

---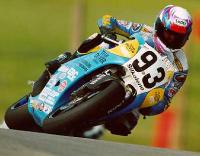 Here are a couple of pictures of Jason Roth, AMA #93 during the '96 season when he rode for Rich Oliver:
Here he's in the Omega turn at Mid-Ohio;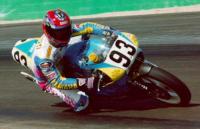 ...and here he's in turn four at Willow Springs.


---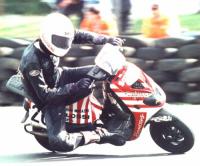 In 1997 the British Superbike Series was supported by a new class to introduce young riders to roadracing. All machines are Piaggio Zip 50 SP automatic scooters tuned with Malossi 70cc race components for up to 17 hp and 90 mph. The rider pictued is 'Sticky' on the Scootering Magazine machine which finished 7th overall out of 30 starting. Arses were comprehensively wooped by 14 year old Leon Halam (son of GP 500 racer Ron) who won nearly every race. Watch out for him on GPs by 2000. And remember you read it on the Strappe page first! E-mail: sticky-uk@bigfoot.com www.scootering.com

Editorial comment: These guys are nuts! 90 mph on a scooter?
---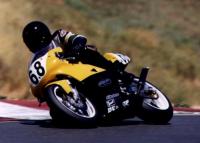 This is Dave Mason on his TZ250 in turn 2 at Sears Point, shortly before a nasty highside in turn 4. In spite of the banging-up he took in the crash he got back on the bike for the Formula Two race and finished second - with a poorly running bike and no windscreen. That was his worst finish in the '98 season to date. He won the '98 AFM FII title going away.
---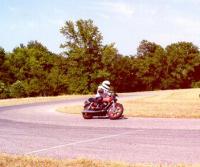 Jon Head riding his '76 RD400 at Oak Hill Racetrack near Henderson, Texas, USA.

---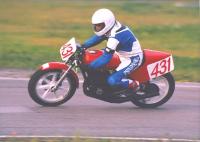 Glenn.Thomson's '77 RD400 at Shannonville (Ont.) the summer of '98. Photo by Ramesh Bayney. Details: Dale Alexander spec 29 mm carbs, mild porting, DG pipes, total loss points ignition w/ lightened rotor, RD350LC rear wheel. At the time this picture was taken, the LC front had been pretzled in a seizure and crash, so it used the stock front end.

---

to Strappe's home page