Street Strokers
Some stock, some not
(click on these pictures for full size)
---
---
New uploads
updated 11/25/00
---
---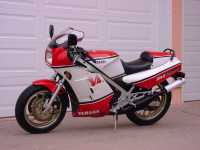 Oops! I can't find the text that should accompany these two immaculate bikes. Above is an RD500 (we call 'em RZ500s in the states) and below is a Suzuki RG500 Gamma. Will the owner please send me some email?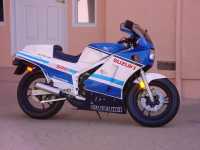 ---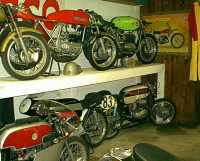 Dwayne Robichaud of Portsmouth, NH sends these shots from Hugh's Bultaco in Craryville, New York. "I'm sure there are plenty of people out there that have never seen some of the beautiful bikes that Bultaco produced let alone their racing heritage. I had a great time there but had to wring out my drool rag several times!! Enjoy."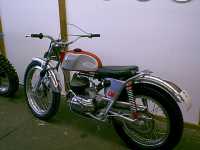 ---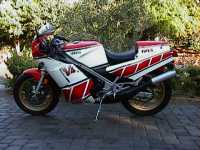 Mike Wood's RZ500. "The bike is just a bone stock RZ, but somewhat unique in that it has less than 4000kms on the clock. The bike is 100% original, down to the tank and fairing stickers, grips, even the original Yokohamas. It was purchased in May of 1984 by a Vancouver, BC auto/motorcycle collector and has been kept in a climate controlled garage its entire life. There probably aren't too many left like this in the world."

---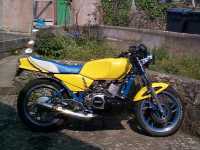 Paul Tye sends this shot of his '81 RD350LC, and his mate Wayne's X7 250

---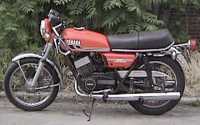 Steven Morse from Providence, RI: "Here are some of my bikes: a 1975 Yamaha RD350B and a Lambretta Li150. The RD is stock except for Clubman bars and a K&M filer. It is my favorite thing I have ever owned. The Lambretta is stock except for the West Coast Lam. expansion chamber and Toomey silencer and bigger jetting. Pretty fast for a 150cc scooter (65 mph+)."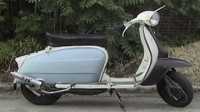 ---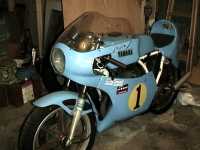 Nigel from New Jersey's "daily beater RD". And here's his matching pitbike.
---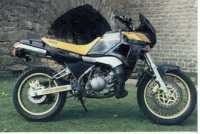 Nick's '89 TDR250. 6000 original miles. You don't see many of these...

---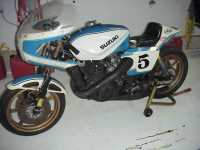 Dick Vallance's GT750. Dick says, "bought this bike at daytona this year am really trying to get some race parts for this and to build another." Here's another view.
---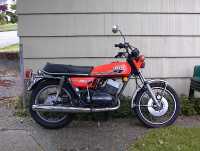 Grendel's RD350. He says, "I bought it and and almost-complete "parts" bike for $600. It runs *great* and has only a few small cosmetic problems."
---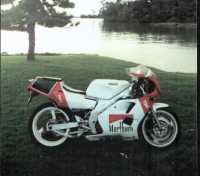 Here's Lewis' 1989 TZR250W - the '89 and '90 were the reverse-cylinder parallel twins. See the exhaust poking out from under the seat?
---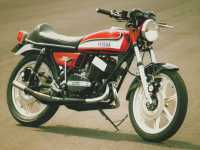 Andy G's 74 RD350A. "Mildly ported, chambers made to suit (supposedly) home made rearsets / forkbrace. 400 wheels - XS rear brake. 2/4 seat. Had the thing 15 years - usual story, start with one thing, get carried away and end up doing the bloody lot ! I was lucky though as when I started, these were worthless and people would literally "give" you genuine parts to get rid of them!! Hence most things replaced with new Yam bits. I only wish I loved it now like I loved it then !"

---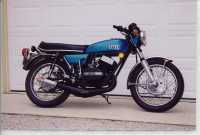 Sam Simons' beloved Rat RD350, which is internally fresh and somewhat 'serious' with the following mods:
Falicon crank, TDR reeds w/ my spacers, bored 29mm carbs, ProFlo intake "Stage 2" port work & Wiseco's, SPEC RZ 350 chambers, Newtronics ign., Undercut trans., Avon Roadrunners, Koni's, ACK rear sets.
---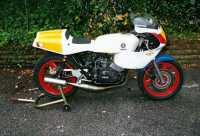 Tod in South Carolina has this 1977 Yamaha RD400. TZ250 Upper and seat, Honda CB-1 41mm forks with RaceTech Gold Valve, Honda CBR600F1 17"wheels front and rear, Honda CB-1 Brakes, ProFlo Race Pipes.
51 HP at rear wheel.
---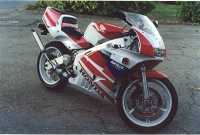 Jim Mason bought this '90 NSR250 with a blown piston. It's very clean.

The motor's stock but with Tyga Chambers, cut out airbox, and full rejet. Reputed to make 58-60HP.



---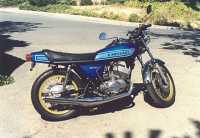 Jim's Kawasaki H1. It has a stock motor with Tony Nicosia Chambers, Borrani Alloy Wheels and Stainless Spokes, K&Ns, and a full rejet.
---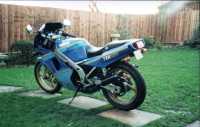 Nev Hall's 1991 (2MA) TZR250. Runs a Bob Farnham Stage 2 tune, standard exhausts with the baffles cut down to 70mm. Reworked forks with race springs and 12.5wt oil. Braided hoses. Bridgestone BT45 tyres.
---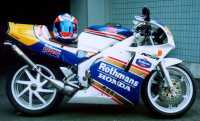 Jamie sends this pic from Japan.
"It's a 95 NSR SE model. I replaced the bodywork with Factory SP bodywork, I have added Jha carbon Kevlar races pipes and silencers, Jha jet kit, etc... numerous carbon fiber parts, racing screen and little extras. I bought it used with 5,000km's on it and have put another 30,000 km's on it travelling all over Japan with no troubles. If you check out MY BIKES section of my page you can find out more and see a few pictures, I plan on updateing that section soon, cause I just got a new carbon fiber rear fender."
Jamie's page is http://www.dreamgate.ne.jp/nsr/
---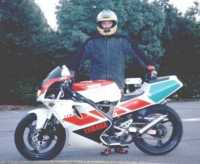 Warwick Blenkinsop with his '91 TZR250 3XV.

---

to Strappe's Home Page



---
---
Street Stroker archives
---
---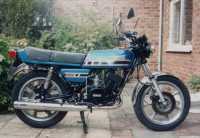 Laurie's 78 UK model RD250D, bought in 1990 for £400 with 3083 miles and currently at 12000 miles.All that has been changed apart from normal service items is the tyres and battery, it still has factory brake pads , chain and sprockets!

---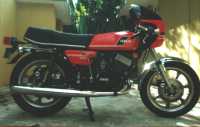 Here's Al Rosselli's RD400D. "It came all the way from Michigan to Puerto Rico about a month ago. Perfect paint, chrome and just under 6000 miles. (bought it thru e-bay, what a gamble!) Already installed SpecII rearsets, K&N Y-filter and the Lockhart cafe fairing. Waiting for the Millenium Sport Pipes from Motocarrera. I need to take good care of it, it is a gift to my sixteen month old sun "Little Al". Never seen one on the road down here in Puerto Rico since I moved back about seven years ago."

---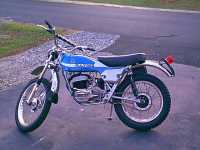 Dwayne Robichaud sends this pic from Portsmouth, New Hampshire.
"I have been a lover of two stroke machines for 25 years or so and have owned several hundred. My current addiction are Bultaco's. I am attaching a picture of my model 137 250cc Alpina which I restored this past fall. I am currently working on two Mercurio's. A 175cc with an .080 over 250cc top end and a stock model 35 200cc."
Several hundred? Remember, Dwayne, "anything worth doing is worth doing to excess!"
---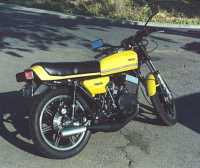 Jim Mason's RD400 restoration. I found the junker in a local shop and Jim bought it. After many hours he has a very nice RD. Those are Pro-Flo pipes and it has Pro-Flo EGT gauges also. It was Jim's first paint job - it came out damn near perfect. It now has a Daytona head, not pictured.

---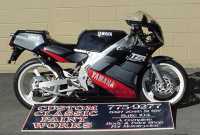 Frank Shuck in Washington State did the paint job on this stunning reverse-cylinder TZR250.
If you want to know more about Japanese exotics you can contact Frank at CustomClassic@aol.com.
---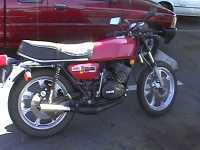 Alec Kosky's RD400 - "It's more or less stock, with the addition of making it a bit sportier (Spec II chambers, K&N filters, flat bars, etc...). In the not-too-distant future, I'll be getting the seat re-upholstered, repainting the bodywork (and the TZ250J fender that's not on the bike in this picture), replacing the rear suspension, and modifying the front suspension. Within the week, I'll be putting on a set of Bosch blue coils, mounted under the tank towards the rear. Just when I think that I've got one thing sorted out, two more things need work..."
---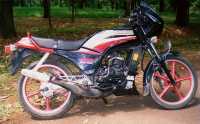 Bob Eko Kurniawan's Kawasaki AR-125. He says, "I am a 2 stroke fanantics and I am from Java I had NSR 150 R, Kawasaki KR 150 and AR 125 heres the pcis of my '86 AR 125 Kawasaki. It's celan and full original from the brand new."
---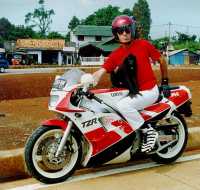 Byron Black in Crocodile Hollow (Jakarta, Indonesia) and his co-pilot (Sulawesi macaque name of ZeroyBB). Byron's the one with the helmet.
"Over the years I've owned and ridden the following strokers: Yamaha YDS-2 (1964) Yamaha TD-1B (1966) Kawasaki A-7 (1968) Kawasaki H-1 (1969) Yamaha TZ125 (1980) Kawasaki AR-1 (1985) Yamaha TZR-250 RC (1990) Yamaha TZR-250 SP (1996) Suzuki RG400 (1997) Suzuki RG500 (2000) ...and probably more, can't get enough."
---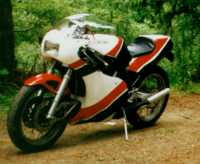 Perry Black's 1st. edition RZ. "I have since changed the wheels to some wide mags and also built a slightly longer aluminum swingarm and different shock linkage for it. On the track this little guy is solid as a big stone and will turn on a dime and give you 9 cents change back, I wish I could remember what I did to get to handle that good! The fairing is off of a '82 TZ-250 that a friend trashed and gave to me after the '82 Daytona race. I held on to it all these years and finally had to buy a bike to put it on.
BTW: The bike was parked on highway 1 between Fort Bragg and Leggett while I was on my No. Cal trip in '95."
---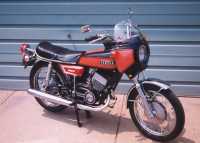 Don Finch's very clean R5C. Don writes, "The fairing is a Dick's Racers West, circa late '70s, I found it brand new and painted to match the bike. Replaced the chain, sprockets, rear brakes, steering head bearings (tapered), new tires, NOS tank badges and mirrors." Don says it's for sale in Western Pennsylvania - email him if interested.
---
---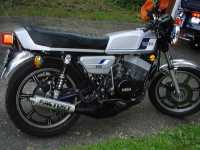 Hal Casey's RD400. "I bought it brand new in 79 (thought I would save the 400.00 instead of buying the Daytona Special) and have 51,000 miles on the clock.(not the original crank or pistons,LOL) The cylinders were ported by DG a long time ago. The pipes in the picture have been replaced w/ older SpecII (resto in progress) and the DG heads I bought for 30.00(?!?) weren't on it.The heads are a story in itself.I was riding to work one day,and this guy started following me right to the door.I figured he had a bike like mine stolen or something. He started with the old"usedterhaveonejustlikeit" and asked if I wanted to buy the heads he had left over for 25.00.I flew over during lunch, and he said "cant you give me a little more" so I gave him 30.00.

---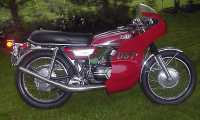 Dr. von Strangemind's very custom DS7. Here it is from the other side.

---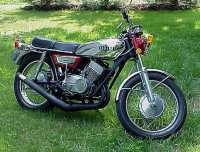 And the good Doctor's R5...

---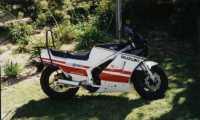 John Frew's Suzuki RG500 Gamma.

---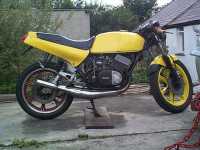 Paul Tye's RD250: "Changes are: RD250/E motor RD250/E Back wheel Rear master cylinder off a Motoguzzi Lemans Micron Pipes (loud; the village I live in, everybody hates me!) new back shock DT oil tank Passanger footpegs "
---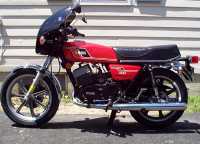 Ed Roper's RD400D.
"I bought it new in 1978. All stock except for Koni shocks, BMW style bar and the Shoei fairing. 12K mi.

---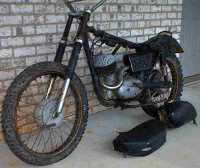 Don Pugh's CZ trials restoration.
"Just started a new project,, a '65 CZ 175 trials. Fairly rare bike,,and one of the first purpose built trials bikes made. ser # 000033. The forks on this bike have external springs,,,like many Jawa/CZ's It will be interesting to see if they can be made to work like trails forks should."

---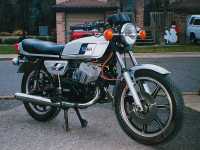 Greg Potts' very clean RD400. Check out his web page at http://www.geocities.com/MotorCity/Lane/2385/index.html
---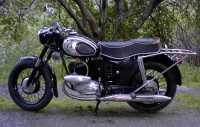 Here's a strange one! Harry Indrevaer's Puch "twingle" - two cylinders, one combustion chamber, one spark plug - here's a sketch.
Harry (he lives in Norway) says, "the Puch 175 sv has been restored this winter . It seems to be impossible to get some parts for this bike, so I had to fix what's left from the rusty bike when I started. Engine reabuilt/frame /brakes/ paint /wiring /carb / (one thing left, saddle cover). Funny sound from the engine . Runs well"

---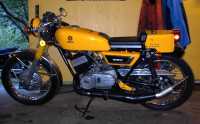 Harry's hybrid 350. "It should say YR5, the bike is made of different models . YR5 DS7 and so on . I have used what I can find or buy for it in used and new parts . There is always a problem with parts for old Yams here in Norway. Can you read the the writing on the (Sits)?? Written just for fun. The oil tank says 250 but that`s the only tags I have got hold of."

---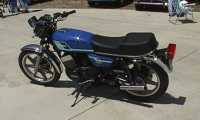 Mike Wood's RD400. He says, "My wife actually bought the bike as a surprise birthday gift almost two years ago. When I got the bike, it was really rough, but everything was there and straight and it was a runner. I rode it around for about half a year and then got a flat tire, which led to completely taking the bike apart, cleaning, painting replacing etc. until its present state of affairs. New parts purchased and installed include a set of Progressive fork springs, "Magnum" shocks, Spec II chambers (dropped down one tooth on the countershaft sprocket), a set of Avon Roadrunners, Uni air filter replacement (currently run 160 mains, still need to get the motor timed and dialed in), bronze swing arm bushings, tapered roller steering head bearings, EBC brake pads and a set of K&N "Superbike" bars which I cut about 3/4" off each side. The tank was scratched up badly when I got the bike, but thankfully the decals were in good shape, so I took the side covers (which were really good) and tank to an auto paint supply store and was able to find enough clean area for a scan. They matched the paint very closely and I shot it in my garage with good results. I have a little over $1400 in the bike as it sits, more than I thought I would (like that's a surprise). The bike is a blast to ride and it is GREAT to have an RD again!"

---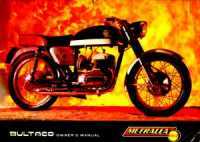 Alas, this owner's manual is all that's left of Strappe's once-beloved Bultaco Metralla. It was bought new in '68 and was a real eye-opener. 250cc, weighed about 240 pounds I suppose. I put Bridgestone racing tires on it and had a great time terrorizing San Francisco. Then one day it disappeared from the apartment garage. Sniff.

---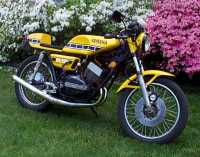 Pete Pratt's RD350. "The bike is mostly stock except for the body work. I stripped everything (steel) to bare metal before repainting. The engine is on its first overbore (yamaha parts). The cylinder ports were smoothed up (rough casting) but no timing mods were made. The heads were decked .010". Boysen carbon reeds. Single K&N. I have no idea what type of expansion chamber I have ( there are no numbers or letters stamped on them anywhere). MotoCarrera GP rearsets.
The bodywork is all fiberglass. I think the tank is a close copy of a TZ750 that is made to fit the RD. The battery box needed to be lowered to fit the solo seat.
The paint is basecoat/clearcoat. Yellow is '95 corvette competion yellow (I thought it was a close match). The strobe stripe is painted on. The side panel and oil tank stripes and lettering are decals (made by a friend that does custom decals, he is trying to start a decal company called "Cycle Graphix")."
---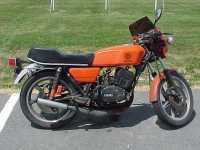 Roy Koren's 76 RD400. "needs a little loving lately ive been too busy with work and class and my family to really get going on it, but its got potential... hopefully i can scrounge up the money to get geoff battick to do a stage 2 port on her this winter as he only lives 20 minutes away...
it goes well, but doesnt wheelie like it should.. i think it might just be the front sproket though.. i havent even checked it to see if i want to drop a tooth on it.. "
---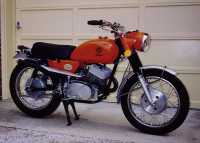 Sam Simons' DS6 "retro special". Sam writes, "The most sigificant mods were converting the frame to single downtube config to accept the R5 350 engine; the lower tubes also were lengthened 1". Modifications to the engine were confined to merely milling the heads .060", Newtronics ignition, 1" carb spacers and vintage Wirges chambers liberated from an earlier H1 Kawa and the installation of an RD 6 speed trans. You'll spot several Yam bits from different models-AT125 seat, R5 rear brake plate, Rd400 shocks, YDS3 speedo/tach/headlight, IT175 taillight, YM2c rear fender (duplicated in F'glas,as is the DS6 front fender), the turn signals are NOS small Yam something...
Anyway,the intent here was to construct something a bit different in the dual sport theme as the factory might have done....
(Here's the "before" picture.)
---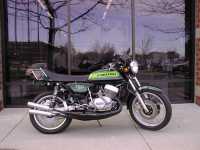 Mark Zweig's 1972 Kawasaki 750 H2. "This is my (almost) daily rider, fully restored, 1974 paint scheme, with Wiseco pistons, chambers, ported and polished, Barnett clutch, and Metzlers. This reliable "widow-maker" runs low 11's at the strip and pulls 75-80 mph power wheelies. Fun! It is one of my 13-bike collection."
---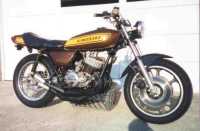 Jim Snyder's 75 H1-F, purchased 1979. "It was completely stock, (not even a master link in the chain) with one previous owner. I roadraced it in 1981,82 at Riverside and Willow Springs in a stock appearing class (internal mods only, stock carbs and pipes). Very fun coming up from the 3rd or 4th row to lead into the first turn, (of course I was always passed shortly thereafter by the better handling GPZ's).
Exhaust ports raised 2mm, piston skirts cut 3.5mm, cyl decked and recessed, heads built and cut to single squish band, case ported, 34 mm Mikuni GP carbs on alum adapter blocks, Barnett clutch plates and springs, clutch pushrod has been shortened with two ball bearings installed to prevent galling, gears have been shimmed and backcut, crank has about 200 miles since last rebuild by Gast (several yrs ago), super trick 13 bend roadrace pipes. The frame is stock. No braces have been welded up. The kickstand and center stand brackets have been ground off though.
The front end has been replaced with one from a KZ1000 police bike. 43mm forks, dual disks, 18 in cast rim 110/90 tire, stainless braided brake lines, DOT3, café fender.

---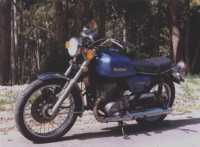 Mark Witzerman's GT500 Suzuki. He says, "bought it for $200. I was only gonna put fork seals in it & just ride it - but it got a bit outta hand. 48000 kms on std bore & only needed rings & a hone.

---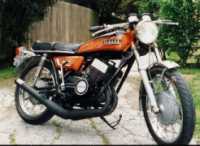 Casper van Ek's 1972 R5C, purchased July 1998. Engine ground-up rebuild. This bike was saved from the parts bike bin. DG chambers, K&N filters, Tires, chain/sprockets. All that's needed now is rearsets and clipons.

---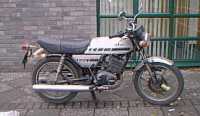 John Wheaton's RD200. It has 38,000 miles on the clock. It has a new seat and everything is stock, except for static timing lights bolted under the seat where the toolkit used to be. The photograph actually flatters it, because the front mudguard is severely rusted and the front forks are badly pitted. Deosn't stop it handling well, though. By the way, if anyone knows of where I can get my hands on another set of front forks, I'd be grateful if you'd let me know. I salvaged it from somebody's back garden where it had been rusting away to itself for 3 years.

---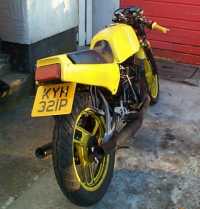 Paul Tye's RD250 (sorta). He found two RD250's in bits, in a neighbor's shed. He says, "So after a year and a lot of learning I finally got it on the road.
These are the specs: 1975 RD250 Motor, Mods: skimmed head, mild porting, thick-er reeds, modified reed cage, Wiseco pistons, Race spannies with home-made end cans, newtronics electronic ignition, no filters (all donations appreciated!) Close gearbox, thats about it.
1975 RD250 Frame, mods: Brackets made for monoshock bracket & rearsets, Various bits removed.
GSX250 petrol tank, TZR125 side panels, back light and seat, TZR125 rearsets, RG500 Mudguard, DTR Swinging arm (flexi-type!!!), TZR Rear Wheel, TZR rear Shock, home made oil tank, home-made clip-ons, various other little bits and bobs, oh aye, twin headlamps -ring and brackets home made.
I'll be putting on a 17in front wheel with usd forks soon, and a new set of rearsets. I'll post that picture when it is done. Also a new spray job. The cats love it. Dunno why."

---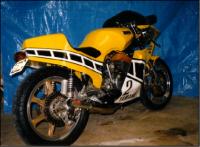 Oh, dear. This very nice '77 RD400 is in my picture file but I've lost the text attached. If it's yours, please leave me some email to ID the critter. Sorry!

---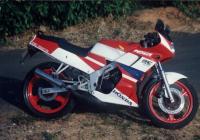 Les says: "My '90 Honda NSR. Was ridden daily for six years, been a pampered pet (and weekend weapon) since then. Mods include Yamaha FZR rear shock and linkages, crank-up rebuilt, ported and extrude honed cylinder, head mods, flat-slide carb, self painted....30,000km and runs better than new."
Nice paint job, Les!
---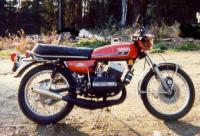 Jeff Anderson's quintessential Alaskan homestead RD.

---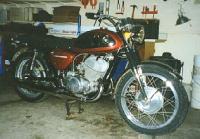 Todd Brockmeyer's '68 Suzuki T500 Titan. "Found a real score with this one. The previous owner actually put some time and money into it. It is my turn to finish up the job. A work in progress."
---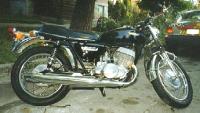 Todd adds, "This '75 T500 belongs to Tyler Popp. Used to be a whole lot more beat up with a badly weathered original paint job. Also a work in progress."

---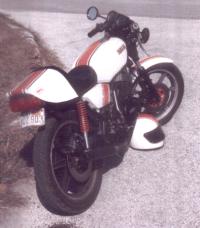 Richard Guest's RD400F Daytona.
Ritch writes, "Unfortunately it doesn't look exactly like that right now. Several years ago my last roommate (before I got married) did what every RD owners hates to see. He flipped it for me right in front of me. He THOUGHT he knew what riding a two stroke was all about. The good news is that I recently started the restore process along with my brother and his RD350 (on a 250 frame).
Mine: 79RD400F Daytona Factory expansion chambers 30mm Mikuni carbs w/dual K&N's (I'm seeing a lot of controversy on the dual K&N's vs stock air box??) Boysen Reeds Raask rear sets Newtronics electronic ignition (Just installed this. A little tricky too!)
The rear spoiler and seat is something I created awhile back with fiberglass and bondo. I had the factory seat dipped and recovered as a solo (passengers and RD's just don't go together).
I've attached another picture of what it looks more like now (except for the pipes- DG shown). I can't decide if I want to repaint it back to the Daytona colors or something custom.

---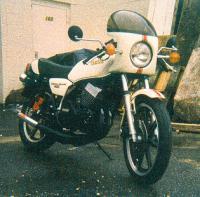 Doug Donelan says, "Here's my 79'Daytona Special I've just finished restoring. The bike was pretty clean when I got it a year ago (5400 miles), so the resto was minimal. I gave it a detailed cleaning, added rearsets, clubmans, a steering dampner, and a set of air shocks then proceeded to seize the right cylinder this past summer. I took the bike down, and rebuilt it (.60 over), it also gave me an excuse to repaint the heads and expansion chambers, detail the finning and polish the heads and exhaust."
---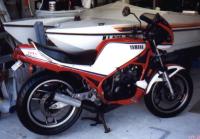 Chris Capp's RZ350. He says, "I'm the original owner, and have only 3200 miles on her! I shaved 30 thousands off the heads, added 30 mm smooth bore Mikuni's and Allspeed chambers. Teleflex fork brace, and Dunlop tires. I just love people that think their 600's are fast, and better yet, guys that think their Harley's are fast! I'm trying to find a set of stainless steel chambers for her."

---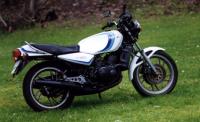 Mark Witzerman's '81 RD350LC. Mark says, "Rebuilt from a seized rolling chassis. I love it, handles so well &looks just right. Too good for you lot (just kidding!)"

---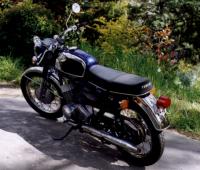 Mark's '67 YR-1 (350cc), 22000 m. "Started with a frame, tank, busted engine & two wheels. Crank up rebuild. Still needs new paint & a proper seat. Goes OK, though." Strappe had one like this, bought it new...

---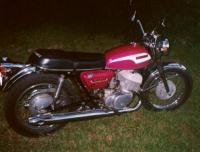 Charlie's Suzuki T-500 Titan. The Titan was the very first Japanese 500cc two-stroke twin, introduced in the late '60s.
---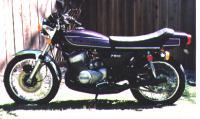 Matt Riley's Kawasaki H2, your classic 750cc two-stroke monster. Fast!
---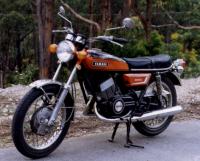 Mark Witzerman's '72 R5, 11,400m. "The original bargain. The seller knocked me down from $350 to $50! The normal tyres, chain, sprockets, wheel bearings etc. later, it's a fun bike. Now to duplicate that Candy Orange."

---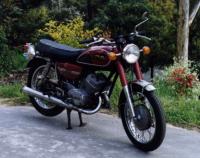 Mark's '68 YDS6. 7400m. "Had a crank up rebuild with great difficulty. I bet the factory were really glad when its designer retired & they could build a proper bike, the DS7."

---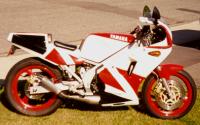 Luis Avila's '87 TZR250. He says, "the tail section has been repainted in a slightly diff. scheme as has the front upper fairing but it's pretty close. Did the paint myself ala spray bomb lacquer. Rebuilt the top end with Pro-x and Yamaha bits, added the expansion chambers, still rejetting but with the 330 mains in, it will lift the front wheel when you whack open the throttle at 7500RPM in 1st gear. Currently working on a TZ upper fairing to bolt on and will tackle the front suspension come spring.
---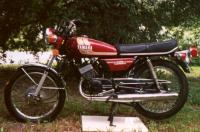 John Richmond's '75 RD125 w/ 1600 original miles - uploaded by Charlie Crawford.

---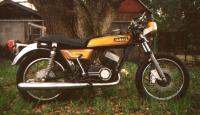 Charlie Crawford's Yamaha DS7. Charlie says, "the attatched photo is my DS last year. Since that time she has recieved an RZ front fender, TR3 rear wheel, my TR3 engine (head cracked on DS), and Factory pipes. The DS will get its old engine back after the heads arrive and the pipes are finished. Then it'll be time to really get down on my 350, what I want to do is mono shock it (old style Yamaha). The forks on the DS are my Daytona forks w/salsa clip ons. Currently it rates REAL HIGH on the Yee Haa factor scale (a GM term). Oh yea, the seat is off a Duc M900. My quick parts bike.

---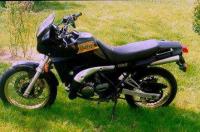 Manu Pintor's '88 Yamaha TDR250 - he removed some yellow decals from the front fairing and changed the seat cover from yellow to black. Engine rebuilt (crank renewed, cylinders rebored to 250cc (was 240), new PRO-X pistons, tuned carburettors, exhaust lines modified and some other tricks). It is able to 180 km/h at 11000 revs.

---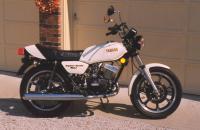 Sam Simons' '79 RD400F Daytona. One owner, 4009 miles. Pristine!
---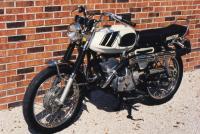 '74 Bridgestone 350 GTO, 5500 miles, totally original and scarce. Runs as well as it looks. Also from the Simons garage.
---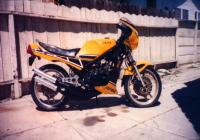 Charles' 1985 RZ350. 26,000 miles all newly rebuilt, frame, forks, 1990 canadian model swing arm. Micron GP style pipes.

---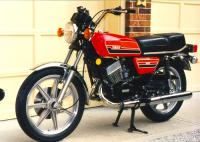 '76 RD400. 4900 total miles, one owner. Sam bought it for $150!
---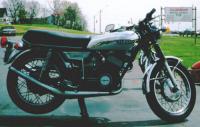 Wendy's Yamaha DS-7, circa 1971 we suppose...

---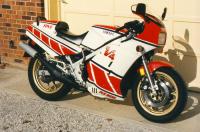 Sam's '85 RZ500 Yamaha. 13,300 km, completely stock, pampered example. Hard to find in this condition.
---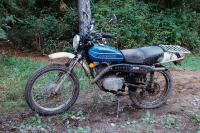 Greg Potts' 1978 Kawasaki KE-100. Purchased for $200CDN at 3000km, now has 7000. Greg rides this and the G90 on trails in Ontario, Canada.

---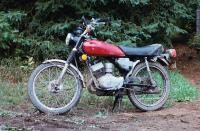 1974 Kawasaki G90, also from the Potts' stable. Greg got this one for $200CDN also.

---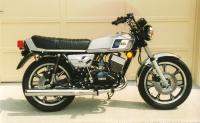 Another of Sam's Yamahas, a '78 RD400E. 1205 miles, one owner, perfect.
---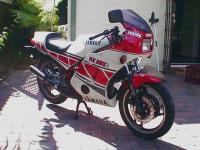 Ms. Erica's '85 RZ250R from the land of Oz. Note the full fairing and optional solo cowl. When it grows up it wants to be a 350.
---
'83 RZ350, Canadian model. 891 km - that makes it a new bike, doesn't it? Also from Sam Simons' stable.
---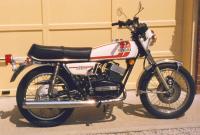 Sam's '75 RD250B. 4000 miles, third owner. One of Strappe's favorites.
---

to Strappe's Home Page