Ride report - August 2004
Northern CA and Oregon coast, central Oregon
---
Day 2 - Fort Bragg to Charleston
---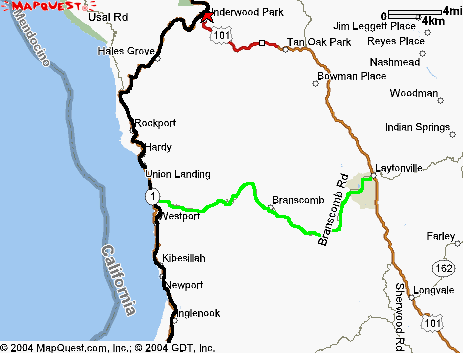 Off at 0730 on a beautiful day. It's cool enough, though, that I pack the mesh jacket and wear the leather one. With a sweatshirt. Highway 1 from Fort Bragg to Union Landing, where it turns inland, is one of the nicest stretches of California coastline. Sometimes inland, usually on the rocky coast, this 25 mile stretch is a joy to ride. But you gotta be ready for fog - although it was clear in Fort Bragg, I'm wiping my faceshield every 30 seconds on the section north of Westport. And passing by another good road - Branscomb road (green) is a delightful route across to 101 at Laytonville (if the sawmill at Branscomb isn't running). Once, though, Silky Daniel and I took it from Laytonville to Westport and met ten or fifteen loaded log trucks on both sides of Branscomb. That raised the stress level a bit.
Highway 1 turns inland at Union Landing for one of the best rides anywhere. Twenty miles of recently-paved sweeping turns across the ridge (the rough sections around Rockport have been paved). Anyone riding the California coast should make this section a must-ride. I usually ride it in the morning and encounter five or six cars the entire route from Fort Bragg to Leggett. It's 45 miles and takes about 55 minutes when traffic is light.
---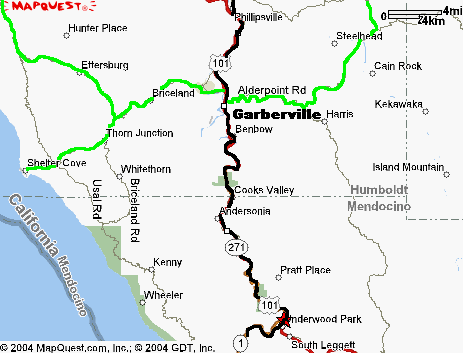 Highway 1 ends at Leggett, so it's on up 101. Still, that's not bad although traffic is much heavier. A couple of miles up 101 I'm passed by a Duck with hard bags - the guy seems to be riding well, maybe I'll stop and have a chat at the next gas stop. Then a few miles further the highway goes from two to six lanes so we can finally pass these cars. EEP! He doesn't pass these left-lane bandits on the right, as I do, he goes around them over the double-double yellow line (in California that's the same as a solid divider, and often becomes one). Guess he's made his statement, though. He pulls off at Garberville and I keep on truckin'. Have a good ride, cowboy.
It's kinda frustrating - at Garberville I pass by three of my favorite roads. The road to Shelter Cove on the coast, the branch from Shelter Cove Road up to Ettersburg and Honeydew (and on to the Lost Coast), and Alderpoint Road (90 minutes of fun, terminating in Highway 36 at Bridgeville). If you try any of these routes, you won't be bored.
But I want to stop on the Oregon coast tonight, so no side trips here.
---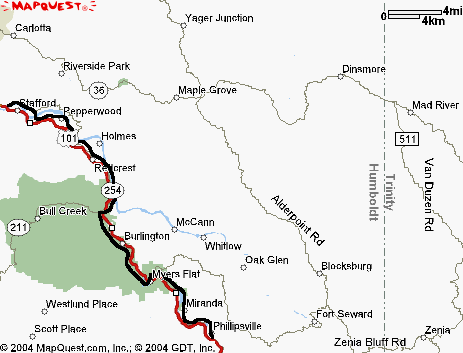 But the Avenue of the Giants (highway 254) isn't a side trip - it was 101, I think, before the freeway was built in the '60s and well worth the ride. It parallels 101 from Phillipsville to Stafford. Traffic is light and the trees are tall. You should check it out.
Halfway up this stretch Mattole Road heads west (labeled highway 211 here) through Humboldt Redwoods State Park. Worth a look - your handlebars will brush the trunks of these huge redwoods as you wiggle through the park. You'll want your headlights here. West of the park Mattole Road meets with Ettersburg-Honeydew Road at Honeydew and continues west through Petrolia to the Lost Coast, Capetown and finally Ferndale. Great ride, but very technical in the northern section. Bumpy, too. Yee Haw!
---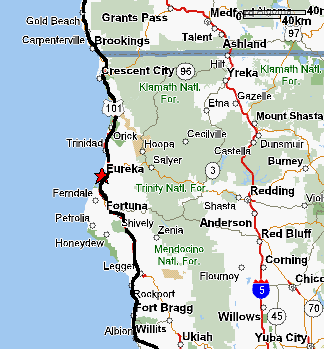 101 is unremarkable after I rejoin it south of Fortuna. I stop in Eureka for gas and a drink at Starbuck's, then hit the road for Oregon. There are some mildly interesting sections around Trinidad and Orick. If I weren't heading for the Oregon coast I'd take 199 from Crescent City to Grants Pass - a nice road, but traffic can be heavy. But I have plans for a diversion at Gold Beach.
---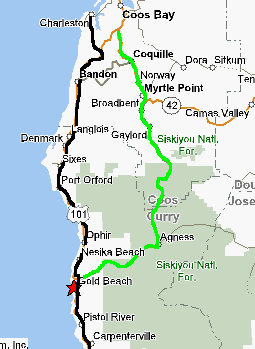 Looked like a good ride from Gold Beach to Agness, then north to Myrtle Point and back to the coast. But a sign half a mile down the road said "Road from Agness to Powers closed. 42 miles." Bah. But nice of them to tell me before I made an 84 mile detour.
So back to 101 and up past Bandon to the turnoff for Charleston.
This section of 101 in Oregon has nothing to recommend it. Except that it's the only route, I guess.
---
At Charleston I found a motel, Captain John's, right next to the piers. Charleston is still a real fishing town and it smells like it - wonderful. Once, long ago, Fisherman's Wharf in SF smelled this way.
I had a very good seafood dinner at a nearby restaurant on the pier. Met a couple of bicyclists from Vancouver BC on their way to San Diego.
Tomorrow I'll get away from 101 for sure...
---