Ride report - August 2004
Northern CA and Oregon coast, central Oregon
---
Day 7 - Bend to Concord
---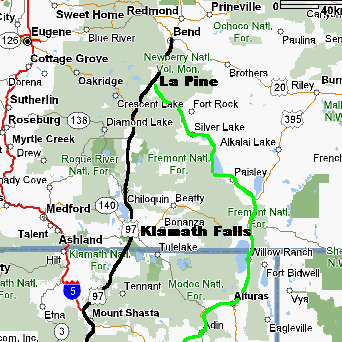 I wake up thinking "I'm tired of motels and restaurants". Not tired of riding, but ready for my own bed and a Giants game.
The original plan was to turn southeast at La Pine (green line) and head down to Hwy 395 north of Lakeview, then carry on into northeastern California via Alturas and Susanville. As I leave Bend I still haven't decided but at La Pine I carry on down 97, so I guess I'm heading home today. I'll miss some of the best riding in the Sierras, so I've heard, but I have plans to come back up there in October.
For the first time I've got rain, from La Pine to Klamath Falls. It's light, mostly, and the leathers are handling it fine. No reason for the rain suit. Not until a cloudburst along Klamath Lake, about 10 miles north of K. Falls.
This is really heavy rain. I'll stop in K. Falls for gas and the rain suit. But at the moment, I don't like this one bit - it isn't the rain that bothers me, it's the white stuff that's oozing out of the pavement. It's sudsing a little bit, like laundry detergent. I bet this stuff is slippery. The next 7 or 8 miles I'm very careful to stay in the track the car ahead has made through the sheet of white stuff.
At Klamath Falls the rain has stopped but it's pretty cold. Rain suit sounds like a good idea. I really like this cheap MotoBoss one-piece suit - I paid about $50 for it at Cycle Gear and wore it last November in heavy rain for three days. Worked perfectly.
---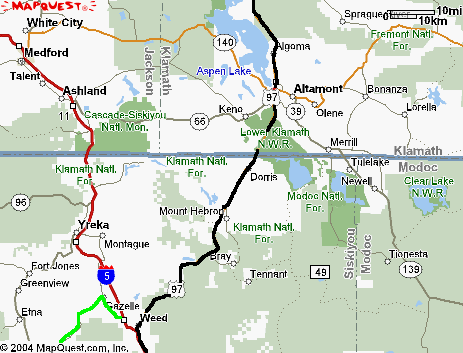 South of Klamath Falls the country is pretty interesting - marshes, sage brush in bloom (geez, I don't know, I'm a city boy - it was bright yellow, anyway), lots of birds.
The ride over the north flank of Mt. Shasta to Weed is always a pleasure, too. Rain or not. (Yeah, the rain is back - no matter.)
At Weed I'm on I-5, but it's not as bad as it sounds. The stretch from Weed to Redding is all mountains and worth riding in spite of the traffic. I thought of backtracking up old highway 99 to Gazelle and down to Callahan and then heading down highway 3 to Weaverville. That's a first-class ride, I was there in June with the BSA club. But it'd take two hours more. I'm a wimp. Time to go home.
There's nothing good to say about the ride down I-5 south of Redding except that it's fast. There's nothing good to say about lanesplitting between four lanes of stopped cars on I-80 between Vacaville and Cordelia, either, except that I could have been in a car - stopped - instead.
No complaints. I've had a good week's ride - didn't stretch it another day or two, as I'd planned, but I feel good. The SV never missed a beat, I'm warm and dry and don't even have a sore back. Or bum.

Gotta get ready for the camping ride in September!
-js
---